Model Y Floor and Cargo Mats Bundle – 5 Seater
$379.98
A complete 9 piece floor and cargo mats set for your Model Y.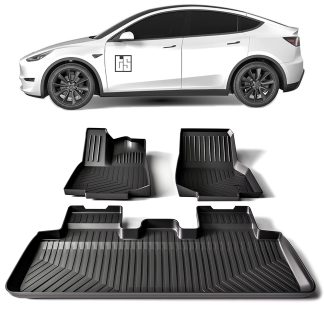 Regular Price: $399.98 Bundle Price: $379.98 You save $20 with this bundle
As Billed ...
Products looked good, fit well and work as described so far.
Great product
Delivery was done very quickly and the product is very nice
Already own the trunk mat and both have great fit
Very Nice
Very Nice. Excellent fit. Exactly what I was looking for . However , took a while to receive it from the time order was placed.
The fit are very good.
Thanks.
Performed perfectly after having a punctured can in my trunk.
I ordered this on a whim when placing an order for winter tires for my Model 3. The trunk mat came before the tires and I was worried that they had sent the wrong trunk mat because the box said Model Y on it. But after opening the box and test fitting the trunk mat, it fit perfectly. The quality of the material seems exceptional. It's not super hard plastic, so objects don't slide around like I expected them to. Don't get me wrong, if you accelerate quickly things will still move, but not any more than with the factory carpet and likely a bit less as this material is grippy.
So I've had my trunk mat for about 3 weeks or so... then yesterday I picked up some energy drinks at Costco. I put them in the trunk, drove home then noticed "water" in my trunk. I've read old horror stories of some people's cars having leaking trunks and I thought it was a thing of the past (which it very well could be). It was a rainy day, so I was half thinking I had a leaky trunk, but it turns out one of the cans sprung a leak and the liquid was all over the new trunk mat. I took some paper towels to wipe up the liquid then sprayed some Adam's car detailer on the mat and wiped it up so it wouldn't be sticky. Today it's like nothing happened. Had I not had this mat my carpet would have ended up sticky or I would have had to shampoo the carpet in my trunk. This mat works like a charm and is of great quality!